Did you guys hear about a part of the Yangtze River in China turning red?!
The Yangtze River is one of the most famous rivers in China and September 7 parts of it turned tomato red! As of yesterday (September 10th), officials still did not have an explanation as to why the water had changed colors.
Most people think it's from pollution. I read online that there was a lake in Texas that also turned red a few years ago. Anybody remember/heard of this?
Pretty crazy! I think the pictures are so beautiful. (though obviously a blue river is ideal)
Another crazy thing, is the green tides in Qingdao (non-related to polution)!
We were at the beach a month or so ago and noticed tons of boats near the shore. As we walked closer, we started to notice stretches of green in the ocean.
All the boats were collecting the algae (blue green sea lettuce), trying to stop it before it hit the shore. Word is, that they use it as fertilizer.
As we walked down on to the beach, we were really surprised to see the beach
covered in a neon green.
It sounds gross, but it looked really beautiful and it didn't bother anybody.
People just jumped over it and played in the water any way.
Zachary and I squished our feet around in it. It kind of felt nice. :)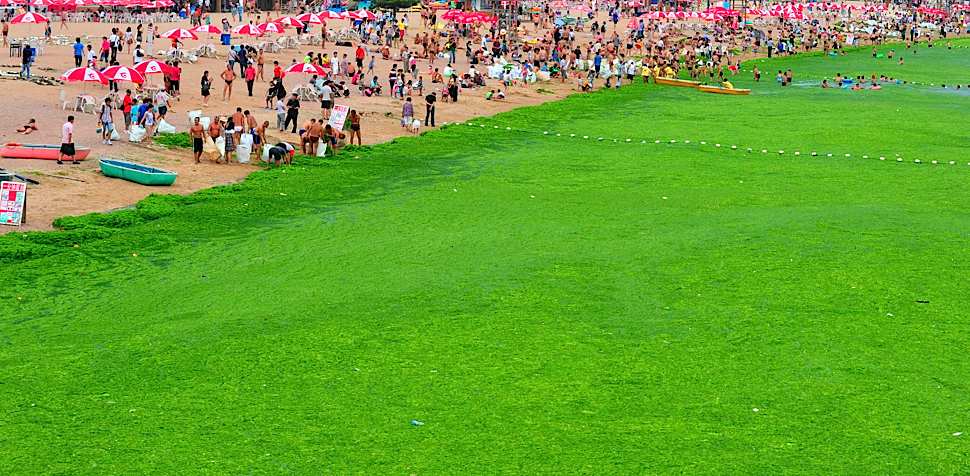 The day we were at the beach there wasn't nearly as much as in this picture.
The Earth is amazing isn't it?
God is so creative.