It's almost Friday!
So thankful for that!
1 more day to go of our 7 day work week.
And last but certainly not least,
I am super honored to have the chance to cohost the
Grow Your Blog
link party this week! Julie and Paula are amazing for having me!
Thank you so much ladies!
Interested in growing your blog? Want to find some new totally awesome blogs?
Want to make new bloggy friends? Or do you just love Blog Hops and Link ups?
(I totally do! It feels like I'm "in" on the party! ;) )
Well, then I highly recommend adding your link below! :)
Show some love!
Oh ya, and,
***
A note from one of your hosts, Julie
***
You can easily find my follow buttons on the right side of my toolbar and you can now follow via Facebook easily by simply clicking the "like" button in the Facebook widget.
What is the Grow Your Blog Hop all about? NETWORKING! Meeting new bloggers, finding new content to follow, building your readership. Why is blog networking great for you? Simply put, it increases readership and traffic to your blog. How do you network? Visit. Comment. Invite. Communicate. These are key to growing your blog.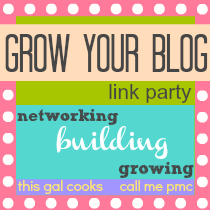 THIS WEEK'S HOSTS & CO-HOSTS
WHEN YOU LINK UP TO THIS PARTY:
Follow your hosts and co-hosts
Visit and follow other bloggers
Comment to let them know that you stopped by and how you followed (Email, GFC, Facebook, Bloglovin, etc)
Invite them to visit your blog (be sure to leave your blog web address - too many times have i seen bloggers comment and request a visit to their blog without leaving their blog web address)
Communicate with them about what you like on their blog. Let them know you are interested in their blog. USE THEIR NAME! A simple "I'm so and so stopping by. I followed you please follow me." just isn't going to interest someone into visiting your blog. Sure, you can request a visit to your blog or a follow along but engage in some type of conversation first.
Grab a button and promote the party (on This Gal Cooks blog, the button is located in the Navigation Tab under "Link Parties" Just click on link parties, not the items in the dropdown)